Bringing about the union of two souls for life, wedding is undoubtedly a 'Big-Day' in everyone's life. People make extensive plans in order to make their special day truly dreamlike. Occasions, no matter how big or special, last for a few hours only and all that's left with you for future are memories of the time and event. Photos are your best bet when it comes to preserving such memorable moments eternally. And when it's about your wedding, you definitely want to make it as special and romantic as possible, don't you?
There's a host of novel and exciting ideas that you can utilise to make sure your wedding photos speak volumes about the sheer grandeur and jubilation of your biggest life-event. Modern Indian couples are playing on utter creativity for their wedding photos nowadays, so why should you slack? Here's the valuable lowdown you can cash in on:
The Aerial-Lehenga view –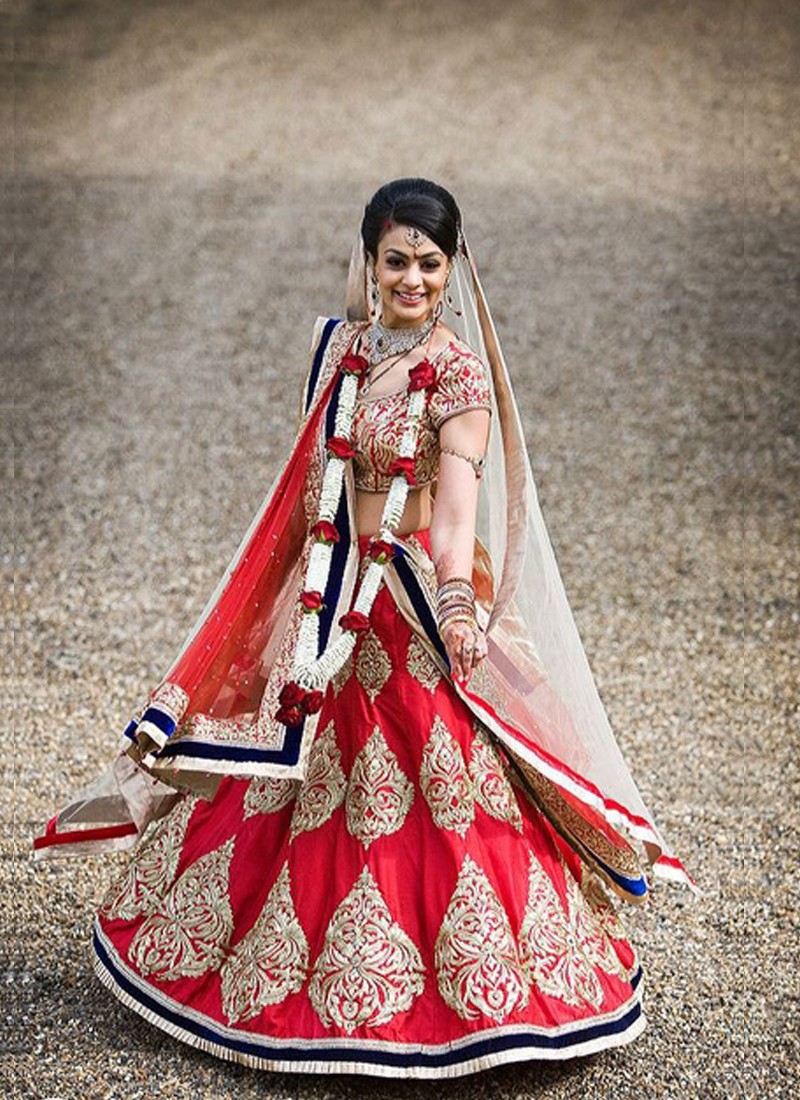 The vibe of one's wedding-day is such that every bride looks bewitchingly gorgeous with all the elaborate sheen and shimmer of her bridal costume and jewellery. If you're going to be a bride soon, you'll be elated to have a picture or two of your exquisite lehenga, taken from the top, depicting the full glory of your elegant bridal-attire.
The Romantic Cliff-shot-
You have to agree that whenever you've seen this incredibly romantic pose in movies you've actually lost yourself in the dream-world, enacting the same with your beloved. Well, this is the perfect time to actualise that beautiful fancy of yours. Get a perfectly angled cliff-like shot of both of you clasping hands lovingly, positioned against a romantic background and you'll cherish this little effort all your life.
 The Selfie-Shot-
Get the customary selfie with your partner or along with your family/friends-group on your phonewhile your selfie-shot is captured by your wedding photographer simultaneously. A picture in a picture- looks amusingly wonderful.
The Bridal-silhouette-
When you're all decked up head-to-toe in the most-special look that you only don once in a lifetime, you should capture the best of it to treasure throughout your life. Get a dreamy black-and-white silhouette shot of your dazzling bridal look against an ethereal backdrop for a spectacular effect.
 The Mehendi-glory
No Desi/Indian wedding is complete without the requisite Mehendi that adds to the glorious beauty of the bride. Pose for your beautiful Mehendi pictures with a flair.
The wedding-ring flash
Flaunt that joint, proud-possession, the pious symbol of your blissful union to have lovely snapshots of the same.
The Vow-taking shot-
Nothing like having your solemn wedding-vows captured perfectly in stunning photos to gaze at and rejoice all your life.
Looking for a place for wedding ? Browse and book best-suited Wedding Photographers in Delhi from Cm photography India .